Federal Hill Food Tour
The historic South Baltimore neighborhood is more vibrant than ever
Federal Hill is south Baltimore's most historic neighborhood. First seen in the early 1600's by English colonial settler Captain John Smith,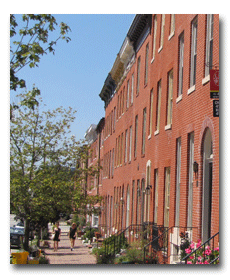 the area has a rich history that spans four centuries. As one of the city's oldest neighborhoods, many of the buildings can be found on the National Historic registry.
Federal Hill is also known for its well developed food scene offering local eateries, famous dishes from Cross Street Market, indigenous foods, family recipes, as well as progressive, high end cuisine.
On our food tour we will enjoy some of the finest foods that are indigenous to Baltimore, as well as Federal Hill itself.
Your Federal Hill Food Tour may include the following specialties:
Hand made comfort foods
Locally brewed beer
Authentic Peruvian Chicken
Lebanese tapas
Award winning crab cake
Baltimore inspired pizza
Classic Baltimore Dessert
Experience Baltimore's storied past!
Join us as we bring you through a town of narrow rowhouses, cobbled streets, and fantastic local cuisine, encapsulating three centuries worth of charm. See what makes this port town so unique and delicious.
Tour Information
When
:Wednesdays-Sundays between 3:00 and 6:30 pm
Where
: Meets near Cross Street Market in Federal Hill (The exact meeting location will be provided upon ticket purchase)
How long
:The food tour will last approximately 3-3.5 hours
Who
:All age groups and fitness levels are encouraged to take the tour
How much
:$62 per adult ticket (plus a $3 ticketing fee). We will be sitting for all dishes.
What to wear
:Comfortable clothing and shoes
What is included
: All food and drinks are included in the tour. Guide gratuities are not included. They are not mandatory but always appreciated.
Weather conditions
:Food tours will take place rain or shine- tours may be rescheduled based on severe conditions
Additional Federal Hill reviews
"My sisters and I took the Cuisine & Culture Tour of Federal Hill in Baltimore as part of my birthday celebration. It was wonderful!! Our guide, Michael, was lots of fun (loved those dance moves), very informative & very sociable. The 3+ hours went by so fast. Each venue we visited provided us with great food & atmosphere. The walking tour of Federal Hill was very enjoyable, especially the view from atop Federal Hill looking down at the Inner Harbor. I would highly recommend this trip to anyone visiting the Baltimore area. I plan to do similar tours with them in Little Italy & Fells Point. What a great way to experience the food and culture of the neighborhoods of Baltimore. I look forward to my next tour".
Pamela G
"This is a great area for restaurants. The tour was on a Saturday, and unfortunately we didn't leave early enough to allow for finding a parking space and so we missed the tour of the Cross Street Market and had to meet the group at the first restaurant. Communication with the guide and the office was great. The 4 restaurants we visited were all good, but Regi's American Bistro and The Hill stood out and were definitely worth a return visit."
Meredeth L-
"My husband and I had a fabulous afternoon last Saturday on the Charm City Food Tour of Federal Hill. The walk was beautiful, and led us past historic sites, including Federal Hill itself, which provided us with an amazing view of the inner harbor. David, our tour guide, gave us excellent information throughout the tour: we learned about the history of the neighborhood, as well as interesting tidbits about the beautiful architecture of the streets we were walking on. The food was excellent in each of our stops: amazing crab balls at Nick's in Cross Street Market, unbelievable halumi cheese, meatloaf sandwich, and portabello sandwich at Porter's, delicious beer and chicken wing pizza at Pub Dog Pizza, and the BEST crab cake and berger cookie at Regi's. While we live in Baltimore, this was a fantastic way to get to know one of the most beautiful downtown neighborhoods. And, the weather was perfect.
Thanks to David and Charm City Food Tours for a wonderful afternoon! We look forward to going on another tour soon".
Erin D -
purchase food tour tickets here
Private, Group, Corporate Events and Tours